We must weave our wisdom together in a tapestry reflecting who and what we are today
Written by Shawn Mai, Board Chair
Filed under: News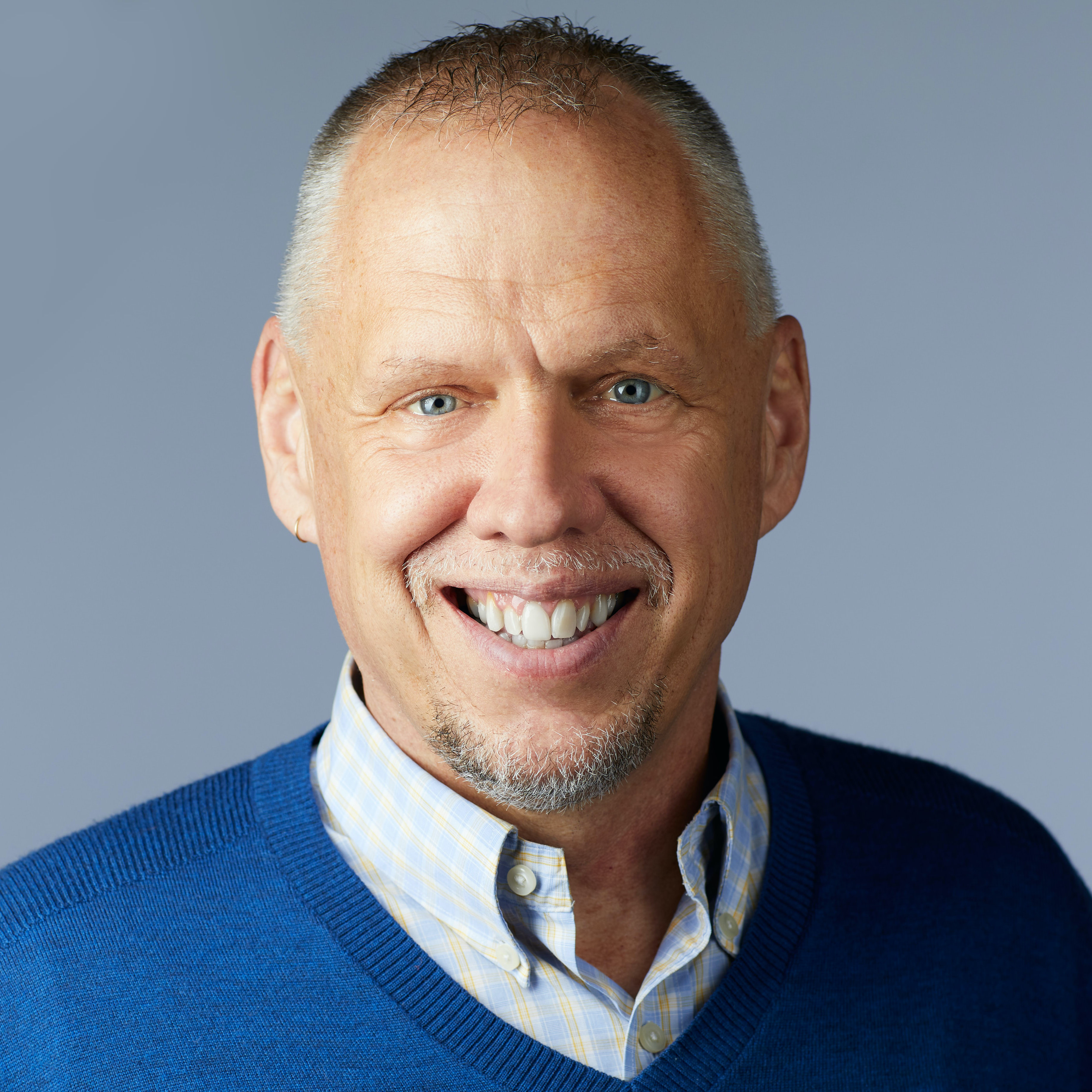 Summer greetings to each of you. I hope this finds you well during this midpoint of summer 2022.

We celebrate freedom on the July 4th holiday. There are many ways of celebrating the freedoms we enjoy, including the freedom to define what it means to live in the United States. We've recently learned there are many passionate definitions of a patriotic American.

The same is true for ACPE. We all feel passion for our association, which has profoundly impacted our personal and professional lives. We each have ideas about what it means to be ACPE. There are as many ideas and definitions as members in the organization. We must weave that wisdom together in a tapestry reflecting who and what we are today.

That is why your participation is crucial in the coming months as we go through a strategic planning process. We must pause and check in with one another about our mission, vision, and values and how those guide our work as an association. Two rounds of focus groups and two surveys need your input.

First, I am grateful for La Piana, the group steering us through this process. Their methodology, process, and work guiding each step of our discernment are intentional, backed by experience, evidenced-based theory, and a grounding as we have opened a robust conversation.

This spring, La Piana encouraged us to form a strategy team to help move the process along. I am grateful for Dagmar Grefe, Jonathan Ball, Carlos Bell, and Doug Thorpe, who have led the effort. These educators and psychotherapist have a defined task. It is as follows:

The Strategy Team will partner with the consultants throughout the process to steward an effective and inclusive process. Although the Strategy Team is important in guiding the process and preparing for decision-making discussions, it has no decision-making authority. For example, they advocated for increased member input which led to the expansion of the focus groups and a survey in the current phase.

Their responsibilities include:
Thought partnership with the consulting team to design and provide oversight of the process
Ensuring a participatory and equitable engagement of stakeholders
Organizing relevant information to inform discussions and decision-making
Serving as a liaison to the boards, staff, and ACPE community and ensuring communications are clear, proactive, and responsive

I checked in with our strategy team to ask for their perspectives on our process at this point.

Dagmar said, "The process has been very collaborative and brings different voices from ACPE together. Our Foundation Board met with La Piana today to reflect on several questions about strengths, challenges, and opportunities for ACPE. These discussions are being facilitated with several of our ACPE committees and commissions. I'd like to make a pitch to all our members to make your voice heard in upcoming surveys. By participating, you take part in the strategic planning process!"

Carlos said: "La Piana Consulting and the strategic planning team are listening to the voice of everyone to ensure that ACPE: The Standard for Spiritual Care and Education is delivering consistently and effectively. Previous organizational structures made by certain demographic groups or individuals minimized the membership's voice. ACPE members are key stakeholders! Without your voice, we are vulnerable to political maneuvering and emotional arguments that derail our Mission and Vision."

I am a better ACPE Educator and administrator because I have learned to listen to the voice of my students and frontline staff. I want to assure the membership that we are being transparent and open to providing constructive feedback to the ACPE Board. I hope you will participate in this golden opportunity to shape the future of our beloved ACPE."

Doug Thorpe gave this perspective: "I am enjoying my work on the strategy planning team. La Piana Consulting is shepherding the process in organized, inclusive, and efficient ways, so I always feel my time is well spent. As the psychotherapist on the team, I appreciate the ways the interests of spiritually integrated psychotherapists are heard and incorporated into the process. We meet, review what we've learned from the members, plan our next steps, scatter to execute those steps, then gather again and repeat the cycle. Everyone remains fully engaged."

Jonathan Ball shared his experience thus far: "My experience on the strategy team has been that we are led by the members (educators and counselors) and supported by the ACPE and La Piana staff. The team desires to seek input from those served as a primary resource for the strategy work that the board will pursue. The strategy team has devoted much of its time to looking at ways to see and hear the perspective of the membership. As an organization that has committed to investing in research, our inclusion of Kelsey White (a Spiritual Health researcher) on the strategy team has been a rich addition. She, and others, have helped point out voices and perspectives that have been unheard and questions that might lead rather than invite. Onuka and Rylan from La Piana have also been excellent guides in the process. Their expertise and past experience of ACPE have been invaluable in this process.

The work of the strategy team has been to help plan the process of the surveys and data collection thus far."

Finally, I'd like to remind you of the four phases of the process that has begun and will take us into the fall. I offer that in verbiage and a graphic for those who are more visual.

Phase 1 – Building a Foundation

Gather organizational context from the board, staff, and members through interviews and group discussions. Some of the information gathered from the membership includes:

ACPE's purpose
ACPE's strengths and successes
ACPE's challenges
Trends impacting ACPE's work
Other strong players doing similar work and how ACPE is different
Opportunities for ACPE to have greater impact
Phase 2 – Strategy Development

Strategy Team and Board meet to review context and develop a potential, strengths-based strategy
Phase 3: Vetting, Refinement, and Approval

Test emerging strategy with staff, members, and external stakeholders via interviews, survey, and group discussions
Board reviews stakeholder feedback and approves strategy
Phase 4: Implementation Planning and Launch

Staff work with volunteer leaders to develop implementation plans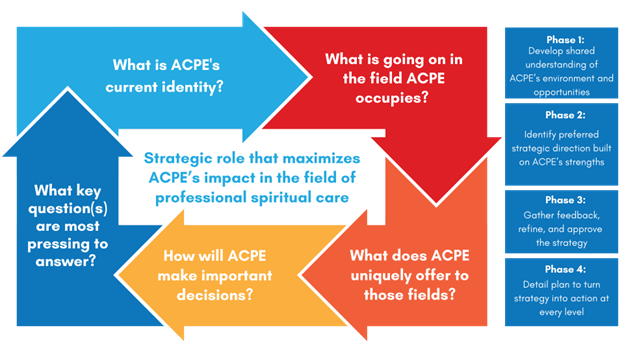 I wish each of you a blessed 4th of July holiday. Be safe, hug your loved ones, and step away to breathe and ground. Indulge in some robust spiritual refreshment, whatever that means for you.
---
Rev. Shawn Mai, ACPE Certified Educator at Park Nicollet Methodist Hospital in St. Louis Park, MN, serves as Chair of the Board of Directors. He may be contacted at shawn.mai@parknicollet.com