ACPE Trains Second Cohort of SIP Trainers
ACPE welcomed and trained 16 new Spiritually Integrated Psychotherapy (SIP) Trainers over the weekend. This second cohort of SIP Trainers spent Friday and Saturday getting oriented to the SIP Program, the 30-hour SIP curriculum, and other details of this new ACPE initiative.
SIP Trainers are the heart and soul of ACPE's new SIP program. They offer continuing education workshops for therapists, provide consultation and mentoring for SIP participants who engage the certification process, and facilitate local SIP Communities of Practice.
ACPE's SIP Task Force (Wally Fletcher, Joann Heaney-Hunter, Russell Siler Jones, Doug Thorpe, Beth Toler) reviewed applications and made selections for this cohort. Most of those selected were Fellows and Diplomates in AAPC, though several were qualified through other paths. These are:
Roosevelt Brown (Williamsburg, Virginia), Maya Georgieva (Falls Church, Virginia; Messiah University), Danjuma Gibson (Grand Rapids, Michigan; Calvin Seminary), Steve Ingram (West Chester, Ohio), Skip Johnson (Atlanta, Georgia), Tina Lightner-Morris (North Potomac, Maryland), Nancy Long (Atlanta, Georgia), Dorothea Lotze-Kola (Atlanta, Georgia), Debra Love (Columbus, Georgia), Terry-Michael Newell (Raleigh, North Carolina; Campbell Divinity School), Chris O'Rear (Nashville, Tennessee), William Scar (Aiken, South Carolina), David Sundell (Cromwell, Connecticut), Karen Sussan (New York, New York), Doug Thorpe (Richmond, Virginia), Kyle Vlach (Saint Paul, Minnesota)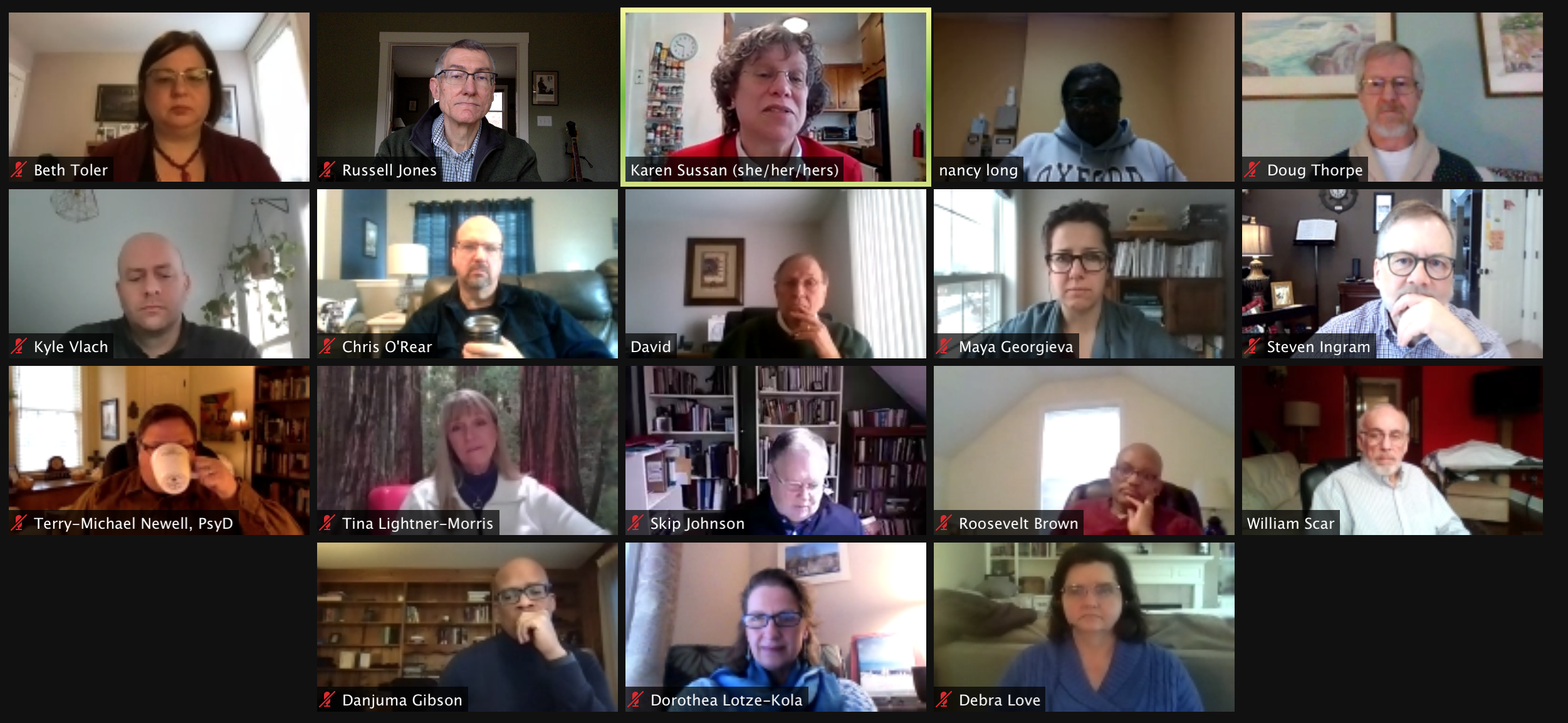 These 16 new SIP Trainers bring ACPE's total number of SIP Trainers to 38. We are grateful to everyone who has stepped forward to be part of this new venture, and we are eager to support their work in the communities where they live and serve.
SIP Program Developers Beth Toler and Russell Siler Jones led the training by Zoom. ACPE has produced a Trainer Manual, Participant Manual, and PowerPoint slides to support the workshops and Communities of Practice that SIP Trainers will be leading, and most of the two days were devoted to learning to use these resources.
The ACPE SIP Program is a multi-disciplinary, inter-spiritual, multi-racial community of persons gathered for education, connection, and formation in the work of spiritually integrated psychotherapy. It serves licensed and pre-licensed mental health professionals (i.e., counselors, social workers, marriage and family therapists, pastoral counselors, psychologists, psychiatrists, psychiatric nurses, addiction specialists, and more), as well as graduate students in any of those disciplines, who seek to explore the ways spirituality, religion, and the search for meaning influence their own lives and the lives of their clients.
SIP Trainers are currently offering trainings via Zoom and will begin offering in-person trainings when public-health realities allow. Click here for a list of online trainings happening this spring, and here to add your name to ACPE's SIP Interest List.