Communities of Practice Gatherings
During this time of radical transition and heightened uncertainties, we feel especially called to maintain our connections and offer our annual workshops, training, and support. We invite you to join us as we come together for learning, relating, and moving forward together into this new frontier.
Need help registering for the event? Click here.
---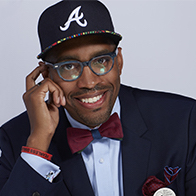 Anchored in the Current: The Eternal Wisdom of Howard Thurman in Changing Times
Presented by Rev. Dr. Gregory C. Ellison II, Keynote Speaker
Grounded in dozens of timeless questions, these three interactive plenaries invite participants to embark on an inward journey where Howard Thurman will serve as a resonant guide. Utilizing a full sensory pedagogy, Ellison will employ music, storytelling, small and large group conversations and silence, to explore the topics of vocation, activism, life-long learning, and the spiritual quest.
Plenary I: What must I do to die a good death? Vocation, Activism, and a Life of Care
Description: In a pandemic-impacted, post-George Floyd America, caregivers are challenged to re-evaluate, re-envision, and reframe their roles to meet the pressing needs of this age. This session invites caregivers to contemplate and discuss the roles of caregivers as advocates, guides, and activists.
Suggested Readings: Ellison, Anchored in the Current: Discovering Howard Thurman as Educator, Activist, Guide, and Prophet (Section IV); Ellison, Fearless Dialogues: A New Movement for Justice, chapter 6
Plenary II: What do you want, really? An Examination of the Working Paper
Description: In a handful of paragraphs and three unpublished sermons, Howard Thurman details the characteristics of the working paper—a living document that is guided by an audacious goal, governs daily practice, and is rooted in a deep commitment to God. This plenary invites participants to wrestle with a handful of life's hardest questions in service of drafting a living document that can impact generations to come.
Suggest Readings: Ellison, Ellison, Anchored in the Current: Discovering Howard Thurman as Educator, Activist, Guide, and Prophet (Introduction and Section I); "How Good it is to Center Down," Sounds True Thurman audio recordings
Plenary III: How do I grow in love of self and other? Counselor, Counselee, and the Spiritual Quest
Description: In a moderated conversation, Ellison and J. Bernard Kynes, Sr. will explore how the life, work, and legacy of Thurman informs how they care for self, others, and God's creation. The questions that these two consider, as African American caregivers in this unique moment in American history, will model Thurman's efforts to navigate the Inward Sea to grow one's love for self and other.
Suggested Resources: PBS documentary, Backs Against the Wall: The Howard Thurman Story; "Growing in Love of Self" and "Growing in Love of Others" Sounds True Thurman audio recordings.
Agenda
Who Should Attend
ACPE Members Psychotherapists, Practitioner Members, & ACPE Certified Educators - $140.00
Student Members - $50.00
Non-Members - $180.00
Retired Professional Members - $90.00
One Day Fee (less than 24 hours) - $75.00
Speakers