The 2021 ACPE Annual Conference program has been gifted with an extraordinary lineup of workshop presenters and content. We are so grateful to the many presenters who are giving their time and sharing their work with our attendees.
As you review the alphabetical listing below, you will find a full description of the program, information on NBCC credit hours, the time slot(s) that the workshop is being offered, and more about the many presenters (s) and panelists.
Most workshops have been approved for NBCC credit hours. You will find that indicated on each workshop description in the alphabetical listings below. More information about NBCC credits can be found on the CE tab to the left of your screen.
Many of these workshops will be offered more than once during the three weeks, allowing attendees the benefit of the programs they are most interested in. The specific session(s) for each workshop will be indicated below the title of each workshop in the alphabetical listing below.
There are five workshop sessions over the three-week program are:
Workshop Session 1: Thursday May 6, 2021; 6:30 PM ET - 8:00 PM ET
Workshop Session 2: Monday May 10, 2021; 3:30 PM ET - 5:00 PM ET
Workshop Session 3: Tuesday May 11, 2021; 7:30 PM ET - 9:00 PM ET
Workshop Session 4: Friday May 14, 2021; 11:30 AM ET - 1:00 PM ET
Workshop Session 5: Thursday May 20, 2021; 3:30 PM ET - 5:00 PM ET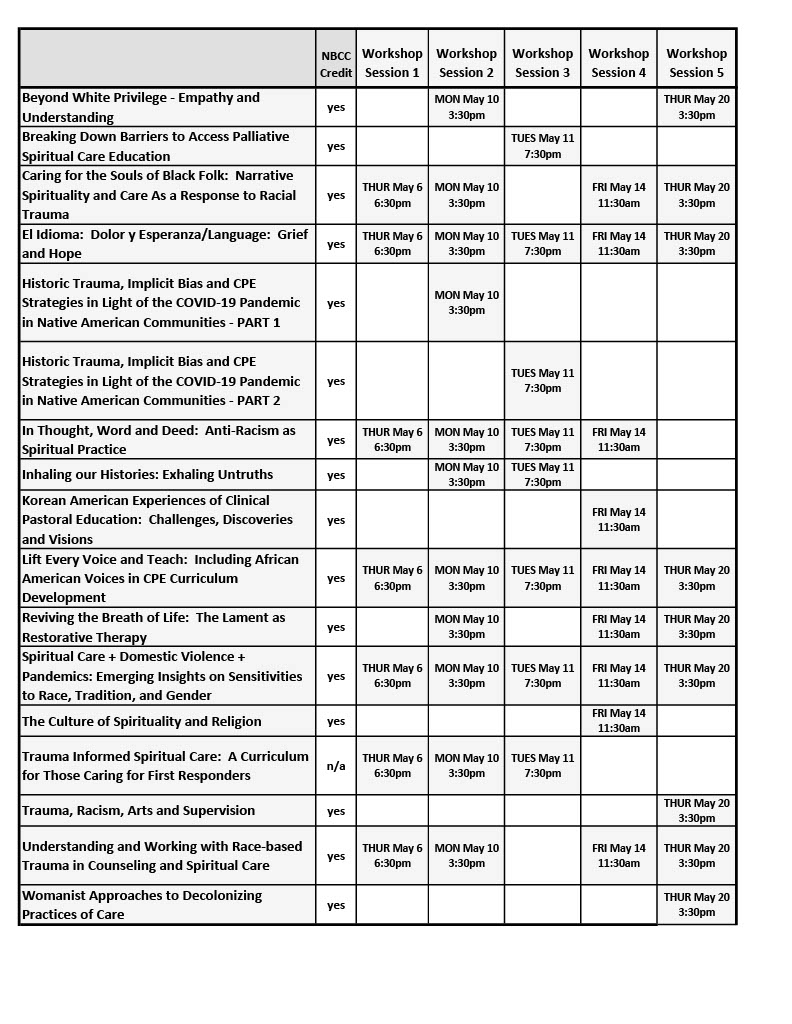 ---
BEYOND WHITE PRIVILEGE – EMPATHY & UNDERSTANDING
Presenter: Felicity Brock Kelcourse
NBCC Credit Available
Session 2, Monday May 10, 2021; 3:30 PM ET - 5:00 PM ET
Session 5, Thursday May 20, 2021; 3:30 PM ET - 5:00 PM ET
The brutal killing of George Floyd, coupled with the recent invasion of the Capital building by Trump supporters, has forced many white Americans to be conscious of stark disparities in racial justice for the first time. How could we white Americans be so clueless for so long? What social structures have kept many of us cocooned in ignorance while our fellow Black, Brown, Asian, Moslem, and Indian neighbors suffered? What is it about white privilege that prevents us from seeing what is right before our eyes?
Beginning with my own story of moving from ignorance to dawning awareness as a middle-class white woman, I will invite my fellow white Americans to consider the ways that white Americans have historically participated in "blaming the victim", beginning with the genocide of Indigenous peoples and the subjugation of Black Americans through chattel slavery.
Workshop participants will be invited to consider these questions: How do we move beyond guilt and superficial solidarity to meaningful action for social justice? How do we reach out to our white brothers and sisters who may still be Trump supporters or at least not "woke"? How do we continue to educate ourselves to prepare for the day when America's color line while be erased once and for all? What do #BlackLivesMatter, #MeToo, and other movements for social justice have in common? How can we best promote empathy for "the other" – those unlike us?

Felicity Brock Kelcourse is Associate Professor of Clinical Mental Health Counseling and Psychology of Religion at Christian Theological Seminary in Indianapolis, where she has taught and supervised since 1996. A 1994 alumna of Blanton Peale Graduate Institute (NYC) and Diplomate of the former American Association of Pastoral Counselors (now Spiritually Integrated Psychotherapy through ACPE) she is currently pursuing further clinical training with the Inter-Regional Society of Jungian Analysts. She completed her Ph.D. at Union Theological Seminary under the direction of Ann Ulanov and has served as director of what is now the MA in Clinical Mental Health Counseling, as well as directing the Doctor of Ministry program at CTS. Her recent publications include Sabina Spielrein and the beginnings of psychoanalysis: Image, thought and language, co-edited with Pamela Cooper-White (Routledge, 2019), Human development and faith, second edition (Chalice, 2015) and Transforming wisdom: Pastoral psychotherapy in theological perspective, co-edited with K. Brynolf Lyon (Cascasde, 2015).
While teaching and publishing she has continuously maintained a part-time practice as a pastoral psychotherapist and supervises counseling interns year-round as part of her faculty responsibilities at CTS. She is a recorded Quaker minister who has served congregations in the Midwest as well as Notting Hill London and Jamaica West Indies. Prior to her counseling training, she completed a CPE Residency to Advanced level at Miami Valley Hospital in Dayton.
Felicity is a white married cis-gender heterosexual female in her 60's, mother of three.

BREAKING DOWN BARRIERS TO ACCESS PALLIATIVE SPIRITUAL CARE EDUCATION
Presenters: Alice Cabotaje, Geronimo Desumala, Allison Kestenbaum, Heather Lawrence & Angel Obed Salais
NBCC Credit Available
Session 3, Tuesday May 11, 2021; 7:30 PM ET - 9:00 PM ET
A majority of clergy, counselors, and religious leaders acknowledge that they and their clients and congregants could benefit from greater familiarity with realities in palliative and end-of-life care.1 The skills and expertise of palliative care, including advance care planning and goals of care, are even more in demand in the time of COVID-19. There also exist significant disparities in access to palliative care for patients, with regard to race, ethnicity, and nation of origin.2 In parallel, socio-economic barriers for engaging in CPE persist. A disproportionate number of clergy, counselors and religious leaders of color lack the resources to devote themselves to CPE full-time, and even part-time programs and internships may be out of reach.
This presentation will present curriculum, strategic partnerships and lessons learned from a two-year pilot palliative care specialty CPE program. This program has been aimed at breaking down barriers to participation and building meaningful partnerships between diverse religious leaders and palliative care clinicians. Can removing obstacles to spiritual care/counseling education lead to overcoming barriers to quality palliative care? Do patients experience better outcomes if their own diversity is reflected in their spiritual and other caregivers?
A panel of program graduates, PAG members, and faculty will reflect on their experiences about unique curricular components. In particular, this workshop will:
Present a patient simulation with multi-cultural cases and actors and preceptors
Outline and connect curricular elements related to Diversity, Clinical Competence and Anti Racism in the context of palliative care.
Illustrate the importance of cultivating philanthropic partnerships so that tuition assistance and stipends can be offered.
Discuss the role of community partnerships for fostering enrollment opportunities for diverse populations in clinical placements
Apply lessons from palliative care specialty CPE to diverse ministerial and counseling settings (i.e. campus, trauma response, hospice)
Alice Cabotaje is the Director of Spiritual Care and Education at Massachusetts General Hospital (MGH). She is an Association for Clinical Pastoral Education (ACPE) Certified Educator and a Board Certified Chaplain with the Association of Professional Chaplains (APC). She is ordained and endorsed by the Metropolitan Community Churches. Alice is also an authorized Zen teacher and Dharma Heir in the Rinzai Zen School Empty Cloud lineage. Along with being grounded in the Christian faith, Alice underwent training and studies in the yogic tradition under a Calcutta-based guru for 18 years. Over the last 15 years, she has been practicing Zen under the guidance of a Zen master in the Rinzai School Empty Cloud lineage. She has a Master of Divinity from the Pacific School of Religion, a member school of the Graduate Theological Union in Berkeley, California, and a Bachelor of Arts in Philosophy from the University of the Philippines. Before responding to her call to ministry in 2004, Alice covered the capital markets in Asia Pacific and North and South Americas, as well as venture capital, restructuring, mergers and acquisitions in technology in Silicon Valley.   
Geronimo Desumala is a second-generation Filipino American cisgender gay male, born and raised in the San Francisco Bay Area. Though confirmed in the Roman Catholic tradition, Geronimo is now preparing for ordination in the United Church of Christ. Geronimo is presently a graduating Master of Divinity student at Yale Divinity School. Prior to seminary, Geronimo spent his career primarily working in nonprofit management at faith-based organizations at global, national, and local levels.
Allison Kestenbaum is the CPE Program Supervisor and Palliative Care Chaplain at UC San Diego Health.  She has developed a palliative care specialty ACPE: The Standard for Spiritual Care & Education accredited training program. Allison conducts research about spiritual and palliative care patient care and education.  She was the first chaplain to receive a Cambia Health Foundation Sojourns Scholars Leadership Program Award (2018).   Allison is a Board Certified Chaplain (NAJC and APC) and a Certified Pastoral Educator (ACPE).  
Heather Lawrence counts it a privilege to simply be present in the holy moments of others' lives. She is passionate about knowing God through love for others and grace for ourselves. After earning her seminary master's degree in counseling, she spent 5 years in professional college ministry and church planting. She is discerning a call to the priesthood in the Episcopal church, and she's enthusiastic about contemplative faith practice. Heather grew up in Virginia, but has recently relocated to San Diego after spending the last 4 years in Nashville, and the previous 5 years ministering in North Carolina. Heather (she/her/hers) is a white, English-speaking, American woman, who identifies as straight/heterosexual and Christian (Episcopalian).
Angel Obed Salais Rodriguez accomplished his Master of Divinity graduating from Westminster Seminary California in 2017. Since 2016 he has been involved in Chaplaincy starting as a volunteer during the last year of theological education in Seminary. As a Chaplain he had had the opportunity to work in the area of hospice chaplaincy. Angel Obed grew up in a Christian family who were actively involved in the church, hence, the high view for the care and support of the spirituality of the individual as of utmost importance.
---
CARING FOR THE SOULS OF BLACK FOLKS: NARRATIVE SPIRITUALITY & CARE AS A RESPONSE TO RACIAL TRAUMA
Presenter: Perzavia Praylow
NBCC Credit Available
Session 1, Thursday May 6, 2021; 6:30 PM ET - 8:00 PM ET
Session 2, Monday May 10, 2021; 3:30 PM ET - 5:00 PM ET
Session 4, Friday May 14, 2021; 11:30 AM ET - 1:00 PM ET
Session 5, Thursday May 20, 2021; 3:30 PM ET - 5:00 PM ET
The objective of this workshop is to explore with participants how narrative can be used as a tool of listening to, learning about and creating new narratives of care, counseling, connection and community across difference. As a result of participation in this workshop, participants will understand the importance of learning about the story of those who they care for with the understanding that when we learn more fully about each other's story and the fuller story of our nation, we can reframe our own understanding and bias leading to a better community founded on collaboration and cross racial dialogue and care.
As a result of this workshop, participants will:
Learn about the history of American race relations and its impact on the racial trauma of black people.
Examine the legacy of racial narratives and biases in race relations.
Engage narrative and story as a tool of cross-cultural spiritual care and counseling.
Explore the concept of re-storying and the role it can play in reshaping race relations.
Be introduced to practices of "Re-story" as a tool to help transform the dominant narratives that shape their own practices of spiritual care and counseling.
Rev. Dr. Perzavia Praylowis Pastor of Fifteenth Street Presbyterian Church in Washington, DC and teaches African American History at Bowie State University (MD). Previously, she was an assistant professor of American History at Augusta University. Dr. Praylow completed four unitsof Clinical Pastoral Education during her chaplain residency at Prism Health Hospital in Columbia, SC. Dr. Praylow earned a PhD in American History, an MA in Education Policy and a MA in History all from the University of Illinois (Urbana, IL), an MDiv atColumbia Theological Seminary, a Masters of Sacred Theology at Lutheran Theology Southern Seminary (SC), and a BA in History at Drew University. As a pastoral theological and historian, Dr. Praylow's research focuses on narrative spirituality, racial trauma and healing; 20th Century race relations, American religious history and African American social equality. Her current book project is Educating the Talented Tenth: Fisk University Students, the Politics of Race Leadership and the Struggle for African American Equality and is completing a manuscript on the mission work of Black women ruling elders in Black Presbyterian churches in the Carolinas. She serves as Vice-Chair of the Board of Directors of the Presbyterian Historical Society, is a member of the Presbyterian Mission Agency Mission Development Resource Committee, the DC Mayor's Interfaith Council and the Alumni Council of Columbia Theological Seminary. She is an ordained Presbyterian minister. Dr. Perzavia Praylow is an African American heterosexual woman who lives in the metro Washington DC area.
---
EL IDIOMA: DOLOR Y ESPERANZA/LANGUAGE: GRIEF & HOPE

Presenter: Latinx CoP
NBCC Credit Available
Session 1, Thursday May 6, 2021; 6:30 PM ET - 8:00 PM ET
Session 2, Monday May 10, 2021; 3:30 PM ET - 5:00 PM ET
Session 3, Tuesday May 11, 2021; 7:30 PM ET - 9:00 PM ET
Session 4, Friday May 14, 2021; 11:30 AM ET - 1:00 PM ET
Session 5, Thursday May 20, 2021; 3:30 PM ET - 5:00 PM ET
With over 50 million Spanish speakers, the United States has the second-largest Spanish-speaking population in the world after Mexico, surpassing Spain itself.1 By 2050, the US will surpass Mexico, and become the country with the largest speaking Spanish population in the world. Yet Spanish-speakers in the US encounter language prejudice and discrimination in the broader culture and unfortunately with more dire consequences in the healthcare setting. As ACPE Certified Educators, native-Spanish speakers, heritage language speakers, second-language speakers, we want to address the grief and hope that emanates from our experience in the 2021 ACPE National Conference "Creating Room to Breathe"—making room to speak, adding our voice in the midst of malaise, violence, and social fragmentation.
We, the Latinx/Hispanic Spanish-speaking Community of Practice want to share our expertise based on our collective experience of language discrimination and linguistic bias. We believe that our experience can help ACPE Educators and ACPE Psychotherapists address the ethnic, racial, cultural differences they encounter with their English-as-a Second-Language students/supervisees. Consequently, this workshop will:

Present vignettes of personal journeys of Latinx Educators through the ACPE Certification Process.
Outline the emotional and spiritual importance of a persons' native language,
Illustrate the trauma of segregation or less-than categorization based on English proficiency and accent, and
Propose possible supervisory interventions that would be helpful when working with students/supervisees from this background.
---
HISTORIC TRAUMA, IMPLICIT BIAS & CPE STRATEGIES IN LIGHT OF THE COVID-19 PANDEMIC IN NATIVE AMERICAN COMMUNITIES
Presenters: Terry Hollister, Gordon Jackson, Wes McIntyre, & Kent A. Schaufelberger
NBCC Credit Available
Session 2, Monday May 10, 2021; 3:30 PM ET - 5:00 PM ET Part I
Session 3, Tuesday May 11, 2021; 7:30 PM ET - 9:00 PM ET Part II
The Covid-19 pandemic, state-sanctioned violence, and social division have a higher incidence in communities of color. This is true in Native American communities. The workshop will demonstrate how the higher incidence of the Covid-19 virus has affected Native communities in eastern Montana and the steps taken to help healthcare providers, in general, and CPE/counseling students, specifically, to better understand this dynamic.
This will be a two-part track workshop, attendance at both sessions is highly recommended. The first presentation will address historical and present-day issues of racism within the Native experience. The second presentation will address the challenges for Clinical Pastoral Education in light of the Covid-19 pandemic in eastern Montana.

The outcomes of the presentations are:
Outline the bias faced by Native American patients in healthcare settings
Illustrate the disparate impacts of the Covid-19 pandemic in Native American communities in eastern Montana
Demonstrate strategies for educating CPE students and other counseling/care providers on how to care for persons with Native American religious, cultural, racial/ethnic diversities in Montana in the context of these recent health disparities.
Terry Hollister, M.Div., BCC(APC), Coordinator: Ministry Formation / Clinical Pastoral Education, SCL Health St Vincent, Billings, Montana has worked at SCL Health St Vincent since 2004; first as a Staff Chaplain and, since 2011, in his current position.  Originally from upstate New York and a resident of Billings since 1985, his professional experience includes parish ministry in Portland, OR and Billings (1980-2003) and three years (2000-2003) serving on the staff at St Charles School (St Labre Indian School system) in Pryor, MT, on the Crow Reservation.  His cross-cultural background includes living and studying in Mexico and Chile (Spanish language proficiency) as well as work in Niger Republic. His CPE was done at the former Northern Rockies CPE Center, Billings. MT; St Luke's CPE Center, Boise, ID and Banner Good Samaritan CPE Center, Phoenix, AZ (2 units of Supervisory CPE)..
Gordon Jackson, Health Disparities Program Coordinator, SCL Health St Vincent, Billings, Montana is the son of Joseph Jackson, Chippewa Indian from the Grand Traverse Reservation and Thelma Irons, Chippewa Indian from the Saginaw Reservation in Michigan. Mr. Jackson has worked with the SCL Health St. Vicent hospital for a little over one year and is a retired federal employee having spent 37 years working with the Bureau of Indian Affairs.  Gordon holds a bachelor of science degree from the University of Washington in forest management.  He held forest manager positions with BIA and later changed career tracks and became an administrator for Indian programs. Gordon was a superintendent on the Crow (Montana) and Osage (Oklahoma) reservations. Prior to his retirement he was a Deputy Regional Director, Rocky Mountain Region, in Billings, Montana and oversaw programs addressing needs in social services, environmental and safety, road construction and maintenance, and tribal operations.
Wes McIntyre, M.Div., Retired ACPE Pastoral Educator, Pasco, WA worked as a Chaplain, Director of Chaplains and CPE for 27 years at Chaplaincy Health Care in Tri-Cities, Washington. He also worked as the contract Pastoral Educator with SCL Health St Vincent from 2014-2019. Wes was born in Billings and grew up in Montana for the majority of his first two decades of life. Returning to Billings in 2014 to work with the staff of SCL Health St Vincent, Wes helped create an ACPE satellite program and then an ACPE accredited training center using distance learning to train individuals throughout the state of Montana.
Previous to becoming an ACPE Pastoral Educator Wes did his first unit of CPE with Supervisor Ray Moon at Eastern State Hospital in Lexington, Kentucky; after pastoring a church in rural Oregon, Wes entered and completed a CPE residency with ACPE Supervisors Earl Cooper and Sherron Hughes-Tremper at Deaconess Medical Center in Spokane where he also did his supervisory training.
Kent A. Schaufelberger, M.Div, BCC, Contracted ACPE Certified Educator, SCL Health St Vincent, Billings, Montana is a retired Lutheran pastor with 45 years of ministry experience, having served as a parish pastor, clinical chaplain and ACPE Certified Educator. He is ordained by the Evangelical Lutheran Church in America (ELCA). He is a Board-Certified Chaplain by the APC since 1988 and has been a fully Certified Educator with the Association for Clinical Pastoral Education in 1998. Kent held positions as a clinical chaplain and as a Manager/Director of Spiritual Care at Tri-Cities Chaplaincy (1979-1986); St Luke's in Boise (1986-2006), St. Charles Medical Center in Bend, OR (2006-2008), and Good Samaritan Regional Medical Center, Corvallis, OR (2008-2014). He served as an ACPE educator while at those three institutions and his final position as Manager of Clinical Pastoral Education at Providence Sacred Heart Medical Center (2014-2019). Having served in these Centers Kent has gained experience and knowledge of several Native American communities, most recently with the Crow and Cheyenne nations in Montana. Kent now supervises the CPE program at St. Vincent, Billings, after Wes McIntyre's retirement, and works with students throughout Montana through distanced educational means.
---
IN THOUGHT, WORD & DEED: ANTI-RACISM AS SPIRITUAL PRACTICE
Presenter: Beth Toler
NBCC and GAMFT Credit Available
Session 1, Thursday May 6, 2021; 6:30 PM ET - 8:00 PM ET
Session 2, Monday May 10, 2021; 3:30 PM ET - 5:00 PM ET
Session 3, Tuesday May 11, 2021; 7:30 PM ET - 9:00 PM ET
Session 4, Friday May 14, 2021; 11:30 AM ET - 1:00 PM ET

Just like different forms of racism work in tandem with each other to reinforce racist ideas, behaviors, systems, and policy, anti-racism and the active and conscious effort to dismantle racism also takes many forms. In the midst of its varying forms in contemporary society, what would it be like to frame the work of anti-racism as a daily spiritual practice? 
Using clinical case examples and Ibram Kendi's book, How to be an Anti-Racist as a starting point, this workshop will explore the concept of anti-racism from both a theological and psychological perspective and will frame the work of anti-racism as a daily spiritual discipline. Specifically, this workshop will utilize Cognitive Behavior Theory and Thomistic Theology's concept of habitus to examine the unconscious, covert, unintentional aspects of racism; consider the relationship between thoughts, behaviors, and emotions in the work of anti-racism; and suggest spiritual practices that cultivate anti-racist lives and identities. 
As a result of participating in this workshop, participants will:
Understand the unconscious, covert unintentional aspects of racism
Consider how Cognitive Behavioral Theory and Thomistic Theology's concept of habitus can be helpful frameworks for understanding and addressing the unconscious, covert, unintentional aspects of racism.
Explore spiritual practices that cultivate anti-racist lives and identities.
Reverend Beth Toler, Th.D., LMFT, is an ordained American Baptist minister and Assistant Professor and Clinical Program Coordinator in Neumann University's MS degree program in Pastoral Clinical Mental Health Counseling. In addition to her teaching and academic experience, Beth has extensive practical experience in various ministry and mental health settings. Her pastoral experience includes parish and campus ministry, hospital chaplaincy, and work in psychiatric facilities. Beth's clinical experience includes over ten years of private practice counseling for individuals, couples, and families. Currently, in addition to her private practice, Beth co-facilitates clergy colleague groups for the Episcopal Diocese of Pennsylvania; and her active writing and research focuses on the methodological and practical implications of integrating religion and spirituality into the counseling process.
---
INHALING OUR HISTORIES: EXHALING UNTRUTHS
Facilitator: Jeanne Messner
Panelists: Teresa Jefferson-Snorton, Sophia S. Park, Insook Lee, & Michelle Oberwise Lacock, Carol Lakota Eastin
NBCC Credit Available
Session 2, Monday May 10, 2021; 3:30 PM ET - 5:00 PM ET
Session 3, Tuesday May 11, 2021; 7:30 PM ET - 9:00 PM ET

Past racial bias in constructing history is examined by a group of women with 2020 vision - looking back at what is recorded in mainline textbooks, examining the current climate, and anticipating future impact. ACPE has long been aware of the importance of a client's, counselee's, patient's individual history. Family systems has helped with understanding the impact of generational transmission, the role of the individual's extended and ancestral familial history.
This panel will unfold, from their research and experience, the repercussions of one's cultural history. These panelists are theologians working as CPE supervisors, ministers, leaders of relief organizations, teaching faculty and one Bishop. They represent Asian-American, Native American, African American, Italian American, and Caucasian American women. The panel draws from their recent collaborative work, Women with 2020 Vision: American Theologians on the Vote, Voice, and Vision of Women (Fortress Press, 2020). Their findings and applications address ethnic/racial/cultural histories that cause us to gasp and gulp for intake of fresh air.
Objectives:
Addressing racial/ethnic/cultural biases in mainline "history"
Connecting these biases to an individual's psycho-social development
Educating supervisors and mentors about the impact of these historical biases in clinical training
Brainstorming proactively in making our CPE centers conduits of fresh air
Teresa Jefferson-Snorton, African American, D. Min, M. Div., the 59th Bishop and first female Bishop in the Christian Methodist Episcopal Church since its founding in 1870. Former ACPE Executive Director, ACPE Educator.
Sophia S. Park, Korean American, Th.D.,LMFT, Associate Professor of Pastoral Clinical Mental Health Counseling at Neumann University.
Insook Lee, Korean, Th.D. Professor and the Director of Master of Arts in Pastoral Care and Counseling at New York Theological Seminary. Former Certified Fellow in the American Association of Pastoral Counselors (AAPC), ordained minister in the Presbyterian Church, U.S.A., Psychotherapist in ACPE.
Michelle Oberwise Lacock, American Indian/Caucasian, D. Min, M. Div, MBA, ACPE Educator and ordained United Methodist clergy (Northern Illinois Annual Conference).
Carol Lakota Eastin, American Indian, M. Div. AAPC, ordained UMC Clergy, Illinois Great Rivers Annual Conference of the UMC, current UMC District Superintendent.
---
KOREAN AMERICAN EXPERIENCES OF CLINICAL PASTORAL EDUCATION: CHALLENGES, DISCOVERIES & VISIONS
Facilitator: Yongbom LeePanelists: Yongbom Lee, Insook Lee, Sophia Park, Kido Ahn
NBCC Credit Available
Session 4, Friday May 14, 2021; 11:30 AM ET - 1:00 PM ET
The theme of 2021 ACPE Conference is, "Creating Room to Breathe: Spiritual Education amid Sickness, State-Sanctioned Violence and Social Division." In response to this theme, a group of Korean American pastoral theologians, CPE students and Certified Educators want to create a space in which we can reflect on the unique Korean American experiences of CPE, and share one's wisdom and insights with one another, and envision what we can offer to our patients, colleagues and communities. We hope that it will be a beginning of Korean American CPE movements within ACPE, which will enrich its diversity. We invite anyone who is interested in the Korean-American experiences of CPE to join us for an open conversation.
---
LIFT EVERY VOICE & TEACH: INCLUDING AFRICAN AMERICAN VOICES IN CPE CURRICULUM DEVELOPMENT
Presenter: Imani Jones
NBCC Credit Available
Session 1, Thursday May 6, 2021; 6:30 PM ET - 8:00 PM ET
Session 2, Monday May 10, 2021; 3:30 PM ET - 5:00 PM ET
Session 3, Tuesday May 11, 2021; 7:30 PM ET - 9:00 PM ET
Session 4, Friday May 14, 2021; 11:30 AM ET - 1:00 PM ET
Session 5, Thursday May 20, 2021; 3:30 PM ET - 5:00 PM ET
This workshop will provide Certified Educators, Certified Educator Candidates, and Counselors with personality, theology and education theories that exist beyond traditional, Eurocentric and commonly used theories drawn upon in the training and educational environment. Attendees will be presented with a vast array of theories, theorists and resources that can be integrated to connect with the African American experience in the education space.

Objectives:

To explore the importance of including African American voices and perspectives in the Clinical Pastoral Education certification process
To present a framework for theology, personality and education theory integration which is rooted in African American voices and perspectives
To provide an inventory of theology, personality and education theories, theorists and resources that reflect African American voices and perspectives
Outcomes:

Practitioners of Clinical Pastoral Education, Clinical Counseling, Counseling Education, Mental Health Providers and Professional Counselors will:
Gain awareness of the importance of including African American voices and perspectives in the CPE certification process
Have increased knowledge of personality, theology and education theories/theorists that reflect African American voices and perspectives

Rev. Dr. Imani Jones, DMin, MDiv, ThM, BCC I am an African-American Pastor in the United Church of Christ, Certified Educator Candidate in Phase II of the certification process in ACPE, and am the CPE Program Manager at The Ohio State University Wexner Medical Center. I live and breathe in a Black body. I have been born into this Black body and was raised in a communal context in Cleveland, Ohio surrounded by Black bodies. I live and breathe and know beyond knowing the Black experience, and have also been educated all of my life in institutions that have firm pedagogical foundations in the White experience. I have learned to navigate such spaces from a marginal social location. Attending a predominantly White high school, sitting in large lecture halls at The Ohio State University and walking the hallowed halls of Princeton Theological Seminary communicated messages to me about what the learning process was designed to be – largely absent of people who looked like me. Majoring in African American and African Studies at Ohio State revealed to me aspects of my history that "HIS-STORY" books had never revealed to me. I heard voices I had not known existed. Those voices liberated me. However, coming to CPE reminded me of what I already knew. The educational process model as it was presented was a reminder to me that African American voices did not have a platform from which to speak. It is not that anyone had ever articulated such words. This was expressed in what was not spoken, the texts that were not used, the topics that were not discussed and the voices that were not heard. I believed deeply that what was being communicated was grossly inaccurate. Some Black person somewhere (beyond Edward Wimberly and Emmanuel Lartey) had something to say about education, personality development and theology that could be connected to the CPE educational process.

---
REVIVING THE BREATH OF LIFE: THE LAMENT AS RESTORATIVE THERAPY
Presenter: Patricia Robinson Williams
NBCC and GAMFT Credit Available
Session 2, Monday May 10, 2021; 3:30 PM ET - 5:00 PM ET
Session 4 Friday May 14, 2021; 11:30 AM ET - 1:00 PM ET
Session 5, Thursday May 20, 2021; 3:30 PM ET - 5:00 PM ET
Authentic self-identity has been compromised in the psyche of Black people in America. The denigrating effects of stigmatizing responses and internalized biases have deposited ideas of shame and belittling self-concepts within the consciousness of Black people. These negative self-perceptions have hindered the development of authentic Black selfhood and require attention, so that these individuals can be liberated from the oppressive existence and realize restoration to genuine expression as a viable living soul.
This workshop invites participants to consider the mental health concerns of those in the Black community and seeks to outline ways to assist individuals who experience the negative impact of these internalized faulty self-perceptions. In particular, the biblical concept of lament will be introduced as a pathway to discover and grieve the hindering self-perceptions that exist in the psyche of Black people. Through lecture, role plays, and small group discussion this workshop will:
Demonstrate the necessity of lamenting the customarily injurious, invalidating, and discriminatory environments and treatment of Black people
Outline the literary structure of biblical lament and utilize it as a means of creating resistance, strength, support, and new possibilities in the minds, souls, and lives of Black people.
Explore the ways in which implicit and explicit bias impacts the care and mental health treatment of Black people.
Invite and encourage participants to cultivate an empathic presence for those seeking liberation from oppressive structures.
Patricia Robinson Williams, ordained Black clergywoman, professor and pastoral psychotherapist in private practice, has experience as professor of English and Pastoral Counseling and in congregational ministry as Minister of Congregational Care and Development. She holds a Ph.D. in English from the University of Illinois-Urbana, M.A. in Pastoral Counseling and Psychology from Houston Baptist University, a doctorate in ministry from Wesley Theological Seminary and a license in marriage and family therapy.
---
SPIRITUAL CARE + DOMESTIC VIOLENCE + PANDEMICS: EMERGING INSIGHTS ON SENSITIVITES TO RACE, TRADITION & GENDER
Presenters: Katie Givens Kime, Anne Faustin-Davis, Kirsten Kelly, Danjuma Gibson
NBCC Credit Available
Session 1, Thursday May 6, 2021; 6:30 PM ET - 8:00 PM ET
Session 2, Monday May 10, 2021; 3:30 PM ET - 5:00 PM ET
Session 3, Tuesday May 11, 2021; 7:30 PM ET - 9:00 PM ET
Session 4, Friday May 14, 2021; 11:30 AM ET - 1:00 PM ET
Session 5, Thursday May 20, 2021; 3:30 PM ET - 5:00 PM ET
This workshop will feature film series excerpts from recently released HEALING THE HEALERS Preparing and Supporting Faith Leaders: Domestic Violence, as well as a panel discussion with spiritual care providers featured in, or contributing to, the episodes and accompanying written guides. Though domestic abuse is not a new topic for mental health and spiritual care professionals, updated multimedia resources for faith leaders with more contemporary sensitivities to race, religious tradition, and gender expression are scarce. In addition to the COVID-19 dynamics of social and fiscal isolation resulting in compounding pandemics for anyone experiencing domestic violence, what should counselors, clinicians, and caregivers keep in mind when providing care in contexts that attend to spiritual and religious components?

Workshop learning objectives:

Learners will be equipped with emerging, updated tools for anyone providing care and counseling from a faith perspective for victims of domestic violence.
Learners will acquire insights as to common uses and misuses of sacred texts and religious traditions in providing care for victims of domestic violence, including examination of complex issues surrounding gender, power, violence, forgiveness and accountability.
Learners will generate localized, context-sensitive "contact lists", identifying strengths in gaps in their understanding of how to liaison with appropriate local professionals (law enforcement, domestic violence advocates).
Learners will be equipped with best care practices sensitive to racialized health disparities and the disproportionate impact domestic violence has on communities of color.
About HEALING THE HEALERS Preparing and Supporting Faith Leaders: Domestic Violence: This timely video series includes 4 episodes of filmed peer-to-peer conversations between faith leaders sensitively navigating the complexities surrounding domestic violence and faith. Each episode encourages faith leaders and spiritual care providers with strategies for cultivating safe houses of worship and care contexts for victims and survivors, highlighting the dynamics of race, gender, and faith traditions. Featured faith leaders include survivors of domestic violence, and leaders with experience constructing systemic care solutions for all affected. A written guide accompanies the series, produced in partnership with leading experts and organizations. This series brings emerging insights and themed care strategies to every leader, educator or care provider responding to domestic violence.

Project partners include the FaithTrust Institute, Peaceful Families Project, CONNECT NYC, Soul 2 Soul Sisters, and Safe Haven. Accompanying written guide includes a diverse array of experts in pastoral care, as well as ACPE Outcomes + APC Competencies tagging, supporting chaplaincy education uses.

---
THE CULTURE OF SPIRITUALITY & RELIGION
Presenter: Tamekia A. Milton
NBCC Credit Available
Session 4, Friday May 14, 2021; 11:30 AM ET - 1:00 PM ET
Spirituality and Religion have long been a hot topic in society. The means upon which a person identifies whether they are spiritual and not religious or vice versa, can take on a conversation of its own. In the midst of these colorful and sacred dialogues is the reality that both spirituality and religion encompasses culture. In the oracles of one's head and heart resides a culture of beliefs, practices, literature, and experiences that shape the awareness and spiritual understanding of each individual. This session will invite participants to discuss and explore the diverse cultural implications of spirituality and religion to cultivate equitable and ecumenical communal relationships.
Tamekia A. Milton is cisgender Christian Black Woman. She serves as the ACPE Certified Clinical Pastoral Education Supervisor/Educator and Chaplain Residency Admissions Coordinator for The Johns Hopkins Hospital and Health System. She is an ordained pastor in the Baptist tradition. Tamekia holds a B.A. in Music Performance/Education from Clark Atlanta University (Georgia), and an earned M.Div. from Emory University, Candler School of Theology (Atlanta).

---
TRAUMA INFORMED SPIRITUAL CARE: A CURRICULUM FOR THOSE CARING FOR FIRST RESPONDERS

Presenter: Paula J. Teague

Session 1, Thursday May 6, 2021; 6:30 PM ET - 8:00 PM ET
Session 2, Monday May 10, 2021; 3:30 PM ET - 5:00 PM ET
Session 3, Tuesday May 11, 2021; 7:30 PM ET - 9:00 PM ET

This workshop will focus on the curriculum developed for the Baltimore City Police Department Community Chaplains. It will provide information about the curriculum development process as well as summaries of the educational modules. Understanding trauma is a key to trauma-informed spiritual care, therefore, the workshop will provide information about this theory including childhood trauma, racialized trauma and generational trauma through families and systems.

---
TRAUMA, RACISM, ARTS & SUPERVISION
Presenter: Cathy Hasty
NBCC and GAMFT Credit Available
Session 5, Thursday May 20, 2021; 3:30 PM ET - 5:00 PM ET
"Trauma" is used to refer to the emotional effects of potentially overwhelming events like a natural disaster, institutional violence, longstanding racial wounds, death, severe accidents, or rape. Experiencing a high number of early "adverse childhood experiences" (ACE Score) has been firmly and repeatedly tied to bad health, to shortened lifespan and to barriers to learning. ACE disproportionally affects BIPOC and the LGBTQ community, and these experiences perpetuate emotional and spiritual trauma.
Resiliency is the ability to bounce back and recover from stressors, ACE and trauma. Spiritually integrated arts practices are a core intervention on behalf of anti-racist resiliency. CPE Supervision, as a relationship that addresses identity, self awareness and relationship, is ripe for re-traumatization and for healing.
The objectives for this workshop are:
To introduce a modest beginning for thinking about the intersection between trauma, racism, clinical education and arts practices for spiritual care providers.
To explore ways that the arts could be part of clinical education with the lenses of theory and practice from trauma, racism, resilience and expressive arts.
To engage one another about the experience and practice of antiracist resiliency arts-based practices in clinical education.
To provide a liminal space for experimentation and new ideas about the edge of the unknown between these fields.
Cathy Hasty, M.Div. Th.M., APC-BCC, ACPE CE, Licensed Clinical Mental Health Counselor Supervisor and Diplomate for AAPC. She has worked as a RN-BSN, ordained minister, board certified hospital chaplain, clinical chaplain educator, counseling educator, psychotherapist, writer and artist. She has specialized training in working with Post Traumatic Stress Disorders, spiritual suffering and grief. She is trained in EMDR, CPT, and art therapy. Most recently, she was certified as a Residency Educator ( ReCAST.) She is a CIS gender LGBTQ affirming English-speaking white woman.
---
UNDERSTANDING & WORKING WITH RACE-BASED TRAUMA IN COUNSELING & SPIRITUAL CARE

Presenters: Melissa Lemons and Mary Beth Werdel
NBCC and GAMFT Credit Available
Session 1, Thursday May 6, 2021; 6:30 PM ET - 8:00 PM ET
Session 2, Monday May 10, 2021; 3:30 PM ET - 5:00 PM ET
Session 4, Friday May 14, 2021; 11:30 AM ET - 1:00 PM ET
Session 5, Thursday May 20, 2021; 3:30 PM ET - 5:00 PM ET
Clinical cases and empirical research demonstrate evidence of long-term mental health effects of racism and discrimination (Carter & Sant-Baret, 2015). Known by several names--cultural, historical, intergeneration, and transgenerational trauma—the exact meaning of these terms and presumed mechanisms of transmission differ. The terms and mechanisms will be examined in light of research on trauma among Comfort Women in Korea, post-Apartheid South Africa, Native Americans, Cambodians, and African Americans. Practical applications of existing measurements of race-based trauma and evidence-based trauma-informed therapeutic techniques will be explored for clinicians, especially spiritually integrated psychotherapy and spiritual care. Particular attention will be paid to the experiences of people of color who experience the effects of both historical trauma and ongoing racism.
An abundance of research suggests that while negative symptoms of trauma such as PTSD are real, enduring extreme stress and moving through extreme stress can have positive psychological consequences that are also real. The most widely recognized term used to describe the phenomena is posttraumatic growth (PTG; Calhoun & Tedeschi, 2006), with other terms such as stress-related growth (SRG; Parks, 2002) also used to describe the process. The PTG literature highlights that the act of enduring stress or trauma can set a person on a quest for meaning that encourages a major reconstruction of her global assumptions. This can result in the transformation of a person's experience of herself, others, or the world. There is limited research emerging in the area of race-based trauma, posttraumatic growth, and resilience. This research and clinical examples will be explored with participants.
Learning Objectives:
Identify and distinguish types of cross-generational traumatic symptoms.
Summarize proposed mechanisms of cross-generational trauma
Locate and apply race-based stress symptom assessments and techniques in clinical settings
Recognize evidence of resiliency and Post-traumatic Growth despite ongoing interpersonal and institutional racism
Melissa Lemons, PhD is an Assistant Professor of Clinical Mental Health Counseling at Wilmington University in Delaware. She is also Pastor for Community Ministry at Unity Lutheran, a growing multi-cultural congregation in Wilmington, DE. She operates a small private practice, Fruitful Conversations, and provides counseling as an outreach for Unity. Melissa is studying for certification as a spiritual director and as a Taijifit instructor, a program designed to treat veterans and others living with PTSD and stress-related disorders.
Mary Beth Werdel is an associate professor and director of Pastoral Mental Health Counseling in the Graduate School of Religion at Fordham University. Dr. Werdel has given numerous presentations on the topic of posttraumatic growth at research conferences, continuing education seminars, and public academic events. She is the author of two books: A primer on posttraumatic growth: An introduction and guide (Wiley, 2012), co-authored with Robert Wicks and As faith matures: Beyond the Sunday God (Ligouri Press, 2012). She has authored multiple book chapters and articles. Her most recent work, Reconciling Disaster and Deity: Trauma, Spirituality and Growth in the Context of Natural and Technological Disasters, is published in the text Disaster Mental Health and Positive Psychology (Springer, 2020). Dr. Werdel is also a Licensed Mental health Counselor in New York.
---
WOMANISTS APPROACHES TO DECOLONIZING PRACTICES OF CARE
Presenter: Phillis Sheppard
NBCC and GAMFT Credit Available
Session 5, Thursday May 20, 2021; 3:30 PM ET - 5:00 PM ET
Participants will engage womanist approaches to theologies and practices of care and counseling in light of their decolonial aims. The workshop format will be didactic and participatory. We will focus our attention on the development of three capacities necessary for undertaking decolonial cares:

Defining womanist approaches to care
Articulating their decolonial aims
Examining 3 examples of womanist approaches to decolonizing care from different care contexts
Participants will be able to
Define womanist care and counseling in terms of theological, culture analyses, and practice aims
Articulate criteria for a womanist decolonial approach to defining and practicing care and counseling
Critically evaluate practices of care from a womanist decolonial perspective
Critical analyze theologies of care and counseling in relation to decolonial commitments.

Questions? Contact Terry Izaguirre at terry.izaguirre@acpe.edu