Registration & Participation
Important Steps for Completing Your 2021 Conference Registration
START HERE! Review the details regarding content of the conference on the website, including information on the programming, the ACPE Board statement, our conference agenda, and the amazing line up of speakers and workshops.
Now that you are familiar with the plans for the event, select the tab to the left for Registration & Participation. Carefully review the Obligation of Attendee information, be familiar with the Virtual Code of Conduct, and understand the Registration and Admissions Policy, all found below
REGISTER NOW! Complete your registration and payment on- line. Be sure to act early, Early Bird rates expire on March 31st! And, no registrations will be accepted after April 27th! Trouble navigating the on-line registration system? Step-by-step instruction can be found below.
Don't forget to bookmark the ACPE website and be sure to follow the ACPE news for more exciting details as they become available.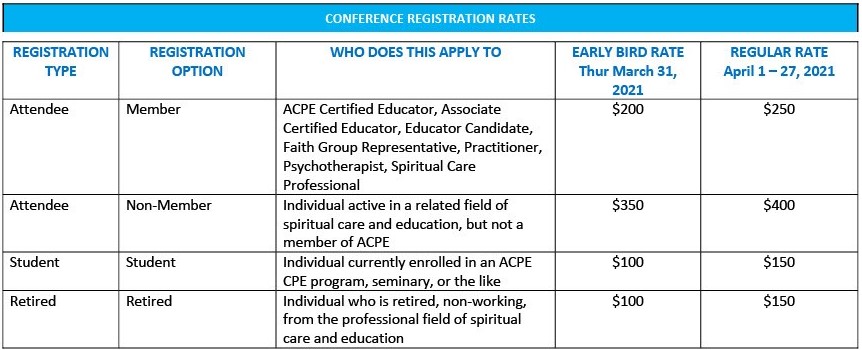 Obligation of the Attendee
It is the responsibility of the registrant to thoroughly review and adhere to all registration information, policies, content descriptions and other available details prior to submitting a registration. ACPE cannot provide refunds in response to errors on the part of the registrant.
Note that this is an all-virtual event, hosted on the CVENT conferencing platform. While every effort has been/will be made to ensure programming is accessible to all, ACPE and CVENT cannot control institutional firewalls and cyber security measures. If you anticipate accessing this event through your institutional equipment, you should review access feasibility with your institution's IT team as soon as possible, and/or make other arrangements for equipment and connection use.
Virtual Code of Conduct
All attendees, speakers, sponsors, vendors, partners, staff and volunteers participating in any ACPE sponsored event are required to adhere to the following Code of Conduct.
All participants must be individually registered for the respective event. Registration constitutes consent to audio and visual recording (and use and alteration of the recording) by ACPE for purposes aligned with ACPE's mission. Providing your individualized link to an unregistered individual, for the purpose of free participation, is grounds for being disconnected from the virtual event without notice.
Our aim in hosting a virtual event is to build a stronger community. Our goal is to create an environment where everyone feels welcome to participate, speak up, ask questions, and engage in conversation. This requires a harassment free and inclusive environment that recognizes the inherent worth of every participant. We invite all those who participate to help us create a safe and positive experience for everyone.

We are dedicated to providing a harassment-free environment for everyone, regardless of gender, gender identity and expression, age, sexual orientation, disability, physical appearance, body size, race, ethnicity, or religion (or lack thereof). We do not tolerate harassment of participants in any form. Offensive language, sexual language/imagery and aggressive behavior is not appropriate during any aspect of this virtual event/conference, including breakout and discussion groups, social media or other online platform.

Following a Code of Conduct allows ACPE to create the best experience possible for all attendees.

Expected behavior

Exercise consideration and respect in your speech and actions.
Attempt collaboration before conflict.
Refrain from demeaning, discriminatory, or harassing behavior and speech.
Be mindful of your surroundings and of your fellow participants. Alert ACPE staff if you notice a dangerous situation, someone in distress, or violations of this Code of Conduct, even if they seem inconsequential.
During this virtual event or any of its related events no participant should engage in harassment in any form.
Do not disrupt the virtual meeting (e.g., "zoom-bombing") or engage in harm or threats of harm of any kind. Do not create/contribute to a safety threat or unsafe or exclusionary situation.
Do not make audio or visual recordings of the Virtual Meeting in any medium—and do not distribute audio or visual recordings of the Virtual Meeting (via social media or any other means). Only ACPE or its representatives may do so, after warning participants to give them an opportunity to opt out.
Do not take or distribute pictures of or copy slides, research posters/presentation materials unless explicit permission is granted.
Participants violating these rules may be expelled from this program without a refund at the discretion of ACPE. Participants asked to stop any harassing behavior are expected to comply immediately.
Note About Differences of Opinion and Offense

To achieve the purposes of a virtual event in the limited time provided, with the universal benefit of all participants' being fully engaged, discussions should be focused on the meeting topic at hand. All participants must be able and welcome to equitably and effectively participate. It is not a violation of the Virtual Meetings Conduct Policy to express an opinion, raise research or describe an experience ("articulation") that is at odds with the opinions of or is offensive to others—if the articulation is part of an on-point discussion of the topic at hand and is offered in a manner that does not interfere with others' reasonable ability and welcome to participate fully. That means expressing differing positions with respect and consideration for all, in a manner that reflects intellectual rigor and is demonstrably mindful of minimizing, as reasonably possible, its potential adverse effect on others' ability to participate. (Offering an advance warning of the potential for impact on others is one way to demonstrate such respect and consideration for all.) It also means not making an articulation that is reasonably expected to cause offense gratuitously (i.e., unrelated or unnecessary for the work on that topic). It means not directing the articulation as a personal attack or put-down of an individual, and not dominating the discussion. It further means demonstrating consideration for anyone who appears to be in distress by promptly stopping the cause and demonstrating caring, while still pursuing a way to share pertinent information, with the Society moderator's assistance if needed.
Reporting an incident:

If you see, overhear or experience a violation of the Code of Conduct during a virtual event, and would like to report a violation, please email us at terry.izaguirre@acpe.edu
Registration, Admission and Cancellation Policy
Conference Registration

All participants must register on-line via the ACPE website.
ACPE Members will need to have their ACPE log-in credentials available in order to register. Non-members will need to create a new account by selecting "log in to register" and scrolling to the bottom of the page.
One low-price registration grants access to the entire three-week conference program.
Payment
Payment is expected at the time of registration. If you must allow time for payment processing from your center, please contact the national office prior to registering. Any registration not paid in full by April 27th will be cancelled prior to the event.
Confirmation Notice

Upon payment, all registrants will receive an automated email confirmation notice. If you do not receive a confirmation notice, but feel your registration has processed, please call the ACPE office at (404) 320-1472. If you do not receive that confirmation, and do not follow up with the national office prior to April 27th, we cannot guarantee admittance into the conference program.
Cancellation

All cancellations will require a processing fee. March 31st is the last date for receipt of written attendee cancellations with a $25 cancellation fee. April 27, 2021 is the last date for receipt of written attendee cancellations with a $50 fee.
ACPE reserves the right to cancel any conference or session, as deemed unavoidable and necessary. In such situation, ACPE will refund to the payee, all registration fees it has received on your behalf, for the cancelled function. The ACPE will have no further obligation to you or the payee of your attendance, for claims of other direct, indirect, special, or consequential loss or damages of any type.

Admission
Only registered individuals will receive and may participate in the educational sessions. Each registrant will receive the appropriate access links prior to the event start. These access links are individualized. They are not to be shared with any other individual(s) nor used in a group setting.
ADA/Accessibility Restrictions

Please contact the ACPE event staff directing at events@acpe.edu if you have any accessibility restrictions preventing you from participating in this all-virtual program. Upon receiving notification from you, ACPE will make every reasonable effort to ensure your access to the live program or to the available recorded content through an agreeable means.
Photo/Digital Image Policy
When you enter an ACPE event (face-to-face or virtual), you enter an area where photography, audio, and video recording may occur. By entering the event premises, you consent to interview(s), photography, audio recording, video recording and its/their release, publication, exhibition, or reproduction to be used for news, web casts, promotional purposes, telecasts, advertising, inclusion on websites, social media, or any other purpose by ACPE and its affiliates and representatives. Images, photos and/or videos may be used to promote similar ACPE events in the future, highlight the event and exhibit the capabilities of ACPE. You release ACPE, its officers and employees, and each and all persons involved from any liability connected with the taking, recording, digitizing, or publication and use of interviews, photographs, computer images, video and/or or sound recordings.
By registering for or entering the event (premises/facility or virtual event platform), you waive all rights you may have to any claims for payment or royalties in connection with any use, exhibition, streaming, web casting, televising, or other publication of these materials, regardless of the purpose or sponsoring of such use, exhibiting, broadcasting, web casting, or other publication irrespective of whether a fee for admission or sponsorship is charged. You also waive any right to inspect or approve any photo, video, or audio recording taken by ACPE or the person or entity designated to do so by ACPE.

Video recording by participants and other attendees during any portion of the conference is strictly prohibited.
Photographs of copyrighted PowerPoint or other slides are for personal use only and are not to be reproduced or distributed. Do not photograph any such images that are labeled as confidential and/or proprietary.
Trouble navigating the online registration system?
-Click here to access the ACPE registration system.
-To the left, select Annual Conference
-To the right, click on View
-Log In to Register
-Members, use your ACPE (not Sharepoint) credentials.
Non-members, select Don't have an account? at the bottom of -page and follow the prompts then return to register
-Log In
-Register
-Choose Registration Type, I will be attending as:
Attendee: Anyone member type, member or non-member, that is NOT a student or retired (definition below);
Student: Student currently enrolled in CPE, seminary or the like;
Retired: Retired, non-working, professional
-Select one Registration Option
-If you need a CE certificate for NBCC credits, select
-Select one workshop from each of the five Workshop Sessions
-You must answer three Questions (four questions for students)
-Checkout
-Review your confirmation for accuracy
-Provide payment information
-Submit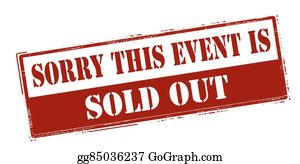 Questions? Contact Terry Izaguirre at terry.izaguirre@acpe.edu