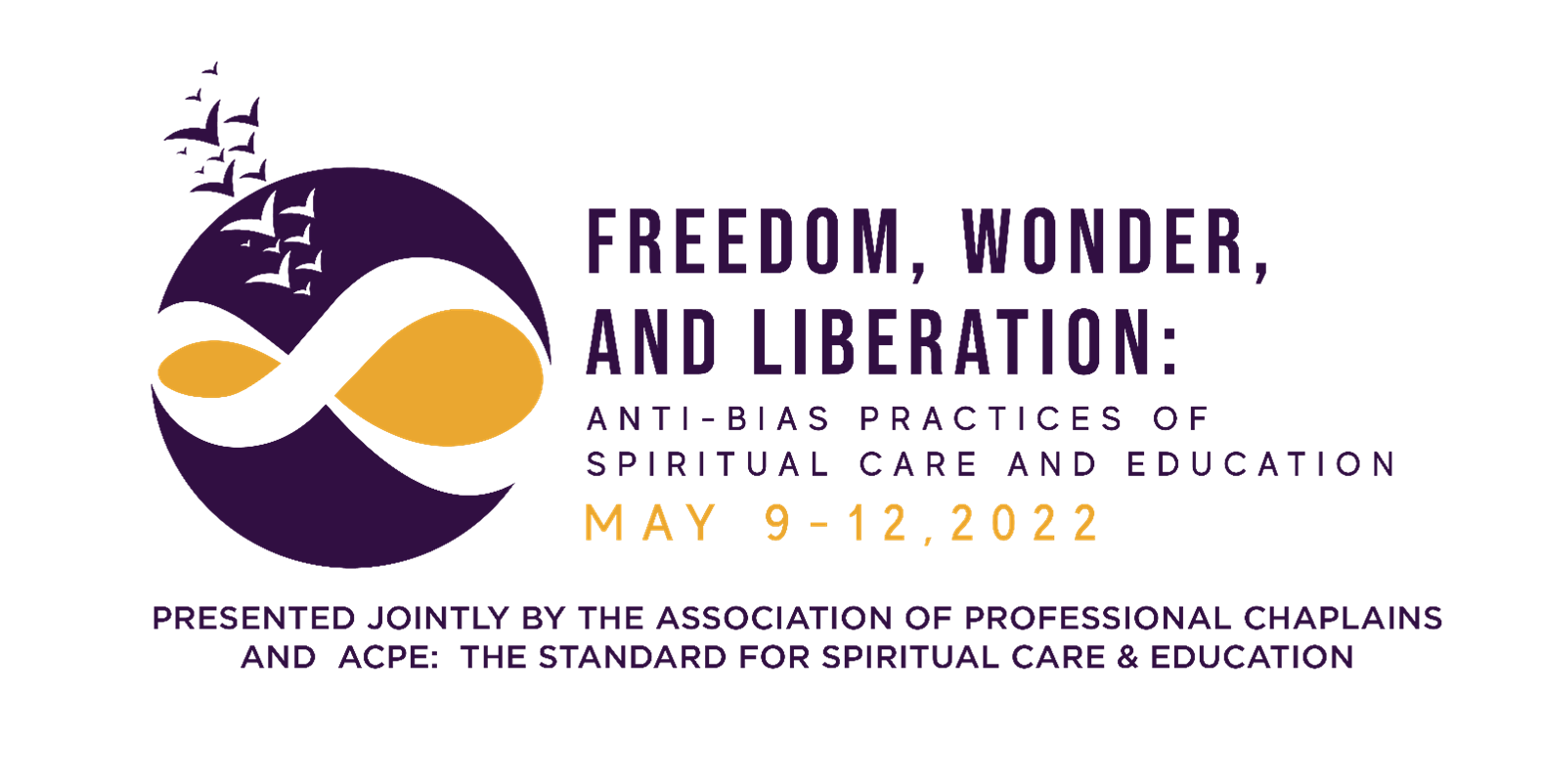 CALL FOR PROPOSALS:
90-Minute Conference Workshops
&
Professional Development Intensives

The deadline to submit proposals is December 8, 2021
The 2022 conference theme, "Freedom, Wonder, and Liberation: Anti-Bias Practices of Spiritual Care and Education" invites the engagement of all community care professionals, 1st Responders, and all our organizational members by facing the urgency of this moment. We need the collective wisdom of our chaplains, our educators, and our psychotherapists as we continue to face into the interlocking pandemics of bias, injustice, and COVID-19.

The 2022 Conference Planning Committee and Education Subcommittee are ready to receive your proposals to present a 90-minute conference workshop or a pre-conference professional development intensive (4-8 hrs) as a part of the 2022 program.
Workshops for the Joint Annual Conference must address the theme of this conference, engage the collective core values of our organizations and ethos for spiritual care and education, while addressing bias(es) as they impact our multitude of settings and the locations where we provide spiritual care, counseling, and education. Only applications meeting these criteria and received by the deadline will be considered for presentation.

Presentations on the following topics are encouraged:
Addressing ethnic/racial/cultural differences between educators and students
Fostering greater understanding of religious, cultural, racial/ethnic, and other diversities,' or strengthening understanding of religious, cultural, racial/ethnic, and other diversities in professional and clinical settings
Responding to and providing care in the midst of state-sanctioned and institutional violence
Educational innovations supporting underserved communities or those that have been overly impacted by COVID-19
We welcome persons developing liberative and resistant knowledge projects; innovative, tried, and true, and research-based presentations are also invited. Possibilities include recorded Zoom webinars, facilitators' guides for experiential education. All workshops and workshop resources will need to be formatted and properly cited for delivery online and in print.
The deadline to submit proposals is December 8, 2021
Applications submitted will be given consideration according to relevance to the conference theme, criteria, and the alignment to the organization's values.

Please submit questions, comments and completed proposal forms to the joint Education Subcommittee by email, c/o education@professionalchaplains.org