UNC Healthcare
Raleigh, NC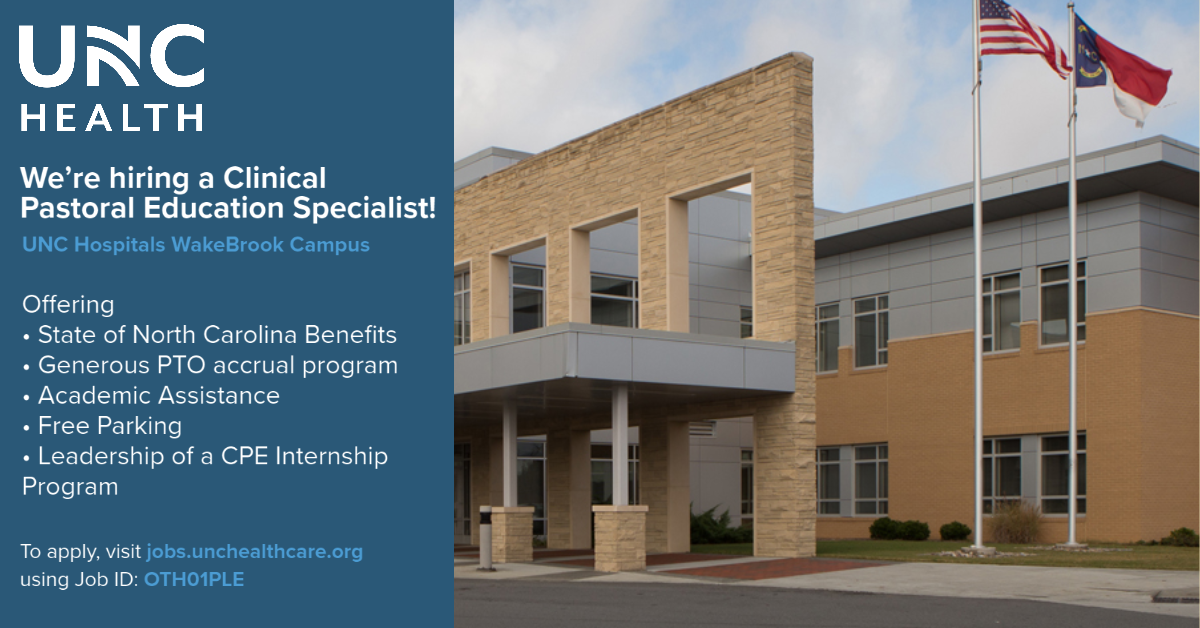 UNC Hospitals WakeBrook Campus in Raleigh, NC is seeking a Clinical Pastoral Education Specialist in the Department of Pastoral Care. The Clinical Pastoral Education Specialist will be responsible for the pastoral care of patients, families and staff and the education of CPE students. The CPE Specialist will:
Offer one on one and group spiritual care, including providing memorial services, grief and bereavement support, family support, and other duties as assigned

Lead a CPE internship program focusing on chaplaincy in the behavioral and mental health care context present at the WakeBrook campus

Participate as part of the larger UNC Hospitals Department of Pastoral Care

Participate as part of the UNC Hospitals Clinical Pastoral Education program faculty, along with faculty at UNC Medical Center in Chapel Hill, NC and UNC Hospitals Hillsborough Campus in Hillsborough, NC
UNC WakeBrook is a psychiatric facility of nearly 100 beds. It offers a continuum of services for people with mental health and/or substance abuse disorders in several units: a Facility Based Crisis Unit, an Alcohol and Drug Detoxification Unit, a Crisis and Assessment Services Unit, a Primary Care Clinic, and an Inpatient Psychiatric Unit. UNC Hospitals is accredited by ACPE: The Standard for Spiritual Care and Education to offer Level I/II and Certified Educator CPE.
Applicants should be either an ACPE Certified Educator or an Associate ACPE Certified Educator. Further qualifications can be found in the job posting,
here
.